Get the Summer Hairstyle You Want with IBE® Extensions
07.01.2021
Want to switch up your summer hairstyle? There's no easier way than extensions, and IBE® Invisible Bead Extensions are the best extensions available. Certified IBE® stylists know the perfect way to incorporate extensions into your hair so they look virtually undetectable for an amazing style. Here are a few of the most common questions we get from our clients about IBE® extensions. 
What are the benefits of IBE® hair extensions? 
Hair extensions are a great way to update your style because you can instantly change up your hair to try out new styles:
Add length, to try this summer's long, beach wave styles
Add volume, to help your hair look thicker with more dimension
Add color, like delicate balayage-style highlights to enhance your color
Give you flexibility, so you can try the newest styles quickly without waiting to grow out your hair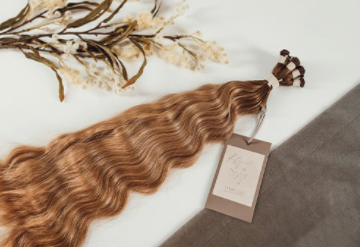 Why are IBE® extensions different?
If you've tried some of the older types of extensions before, you know that there are three things that might keep you from trying them again.
Damage. Too much tension and pulling on the hair can lead to damage, breakage, and even hair shedding. No one wants to lose a strand before its time, because over time, that can even lead to thinner-looking hair. Older types of extensions and extension application methods would cause too much tension, which can potentially damage the hair and scalp. What's even more troubling is that all this tension that damages the scalp can damage hair follicles, which may affect hair growth in the future. 
Discomfort. In the past, older extension types and application methods were uncomfortable. While the overall look might be good, those old extensions were uncomfortable to wear, erasing extensions as an option for many people. 
Lack of versatility. One of the main purposes of getting hair extensions is to have the flexibility to style hair in different ways for a versatile style. But older methods of hair extension application meant that adhesives, beads, and other bonding areas would be exposed if the hair was styled in a certain way. 
The creators of Invisible Bead Extensions, or IBE®, created a way to overcome all three of these challenges so that people could enjoy all the benefits of hair extensions once again without the damage, discomfort, or lack of versatility that older methods and types of extensions had caused. 
IBE® extensions are only applied by certified IBE® stylists who are thoroughly trained in this revolutionary method of extension application to ensure the best, most flexible hairstyle for your summer look. 
What are IBE® extensions made out of?
At Cre8 Salon & Spa, our professional-grade extensions are made from 100% cuticle-intact Remy human hair for the most natural, blended look for your summer style. Starting with the highest quality extensions means that you will love your new look. And because we use IBE® extensions, you can be sure that your hair is protected from damage, that wearing your extensions will be comfortable all through your daily activities, and that you'll have the versatility to enjoy virtually any hairstyle you want without worrying that your extensions are visible. 
Will anyone know I'm wearing IBE® extensions?
IBE® extensions are virtually undetectable, so you can relax and enjoy the styles you love without worrying that anyone will know you've added extensions to enhance your new look. 
How do I get IBE® extensions?
The first step is a complimentary consultation with your IBE® certified stylist at Cre8 Salon & Spa. That way, we can assess your needs and talk about the styles you want to achieve before selecting the right type and color of extensions for you. 
Are IBE® extensions hard to maintain, and can I reuse them?
IBE® extensions require maintenance every 7 to 10 weeks, so be sure to make your follow-up appointments with your IBE® certified Cre8 stylists so you can keep your style looking incredible. We'll recommend the best professional products and styling tools to use to keep your IBE® extensions looking fabulous for as long as possible. 
IBE® extensions are reusable, but we recommend that you get a new set of IBE® extensions after about nine to 12 months with proper care. 
Looking for a way to enhance your summer hairstyle? Come in and try IBE® extensions for yourself at Cre8 Salon & Spa. Make your appointment today and we'll help you choose the best color and style of IBE® extensions to make your summer style unforgettable! Visit us at 814 Pine Island Rd #202, Cape Coral, FL, call us at 239.458.2704, or Contact Us to schedule your IBE® extensions consultation appointment. To start earning exciting rewards, register now for our rewards program. Just text "JOIN" to 239.880.8383 or visit our rewards page.