Time to Breathe New Life into Your Skin with HydraFacial® Treatments
04.01.2022
As we move through spring and closer to summer, it's the perfect time to breathe new life into your skin so that it will look and feel its best for the summer! A HydraFacial® treatment is one of the most advanced treatments available to help restore your skin's healthy look and feel as well as address some of your most problematic skin concerns.
What is a HydraFacial®?
You've probably heard a lot about HydraFacial® from your friends and coworkers, but what is it exactly? HydraFacial® is much more than a standard spa facial. It's a medical-grade resurfacing facial treatment that provides multiple benefits for the health and condition of your skin. 
The HydraFacial® treatment uses state-of-the-art technology and groundbreaking nourishing serums that treat your skin in a pampering spa environment. 
Who can benefit from a HydraFacial® treatment?
Simply put, a HydraFacial® treatment is for everyone because it puts your skin in its best possible condition to keep it healthy and young-looking. But in addition, HydraFacial® addresses multiple skincare issues, so it can be tailored to fit your individual needs. HydraFacial® treatments can help with:
Dry skin
Breakouts and rashes
Uneven skin tone and texture
Fine lines and wrinkles
Enlarged pores
and much more.
HydraFacial® treatments help rejuvenate your skin and improve its:
Firmness
Plumpness
Hydration
Brightness
For beautiful skin that looks and feels incredible!
What are the different types of HydraFacial® treatments available?
HydraFacial® treatments are customized spa treatments that address your skin's unique needs. Therefore, there are several different treatment types to choose from:
Signature HydraFacial®. The signature treatment gives you that deep cleansing, exfoliating, and extracting that you need to remove impurities. At the same time, it infuses vital nutrients and hydration to pamper your skin. 
 
Deluxe HydraFacial®. The deluxe treatment gives you everything you'd experience in a Signature HydraFacial® treatment, but it's further customized for you with a personalized Booster for the skin issues that are of most concern to you. It also adds an LED Light Therapy treatment to make visible signs of aging less noticeable. 
 
Platinum HydraFacial®. If you're looking for an ultimate spa experience – the Platinum HydraFacial® treatment is perfect for you! This comprehensive treatment starts with detoxification through Lymphatic Drainage. Then you'll get the unbeatable cleansing, exfoliating, and extraction of the Signature HydraFacial®. That's topped off with the personalized Booster treatment for your skin's individual needs, as well as the LED Light Therapy treatment to address any visible signs of aging.
What is a HydraFacial® perk?
You can add even more to your incredible HydraFacial® experience by adding a Lip Perk or Eye Perk.
Lip Perk. The HydraFacial® Lip Perk Revitalizing service infuses the delicate skin on your lips with healthy ingredients like peony extract and peppermint oil, leaving them hydrated, refreshed, and even lightly plumped.
 
Eye Perk. The HydraFacial® Eye Perk Replenishing service addresses the special concerns of the skin around your eyes. Skin in this area is more delicate than on the rest of your face and is often the first place that fine lines and wrinkles appear. Important ingredients like arnica flower extract and horse chestnut seed extract are the key factors that help enhance the skin around your eyes. The HydraFacial® Eye Perk leaves the skin around your eyes firm, toned, and well hydrated.
How often should I have a HydraFacial® treatment?
Everyone's skin is different, so your expert esthetician at Cre8 Salon & Spa will help assess your skin's individual needs. For most of our clients, a monthly HydraFacial® treatment that's customized to their skin's needs provides the most effective results.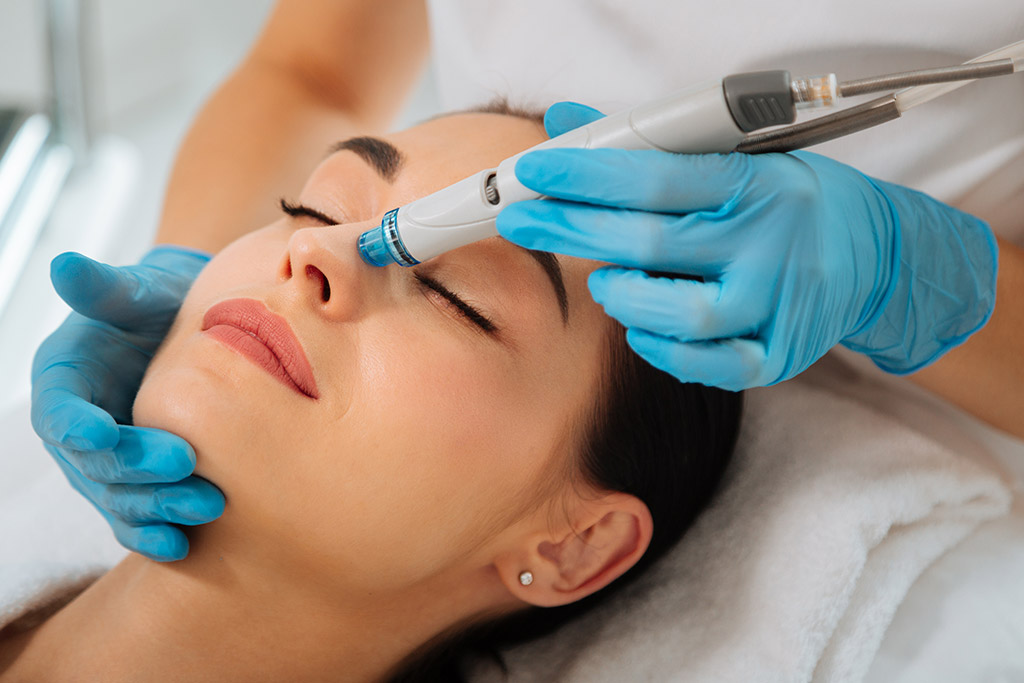 What does it feel like to get a HydraFacial® treatment?
These effective, professional treatments feel incredible! You'll relax in our luxurious salon and be pampered by a fully trained, professional esthetician throughout your HydraFacial® experience.
You'll start with a skincare consultation, where our expert estheticians examine your skin and talk to you about the issues you've experienced and want to resolve. After determining your skin's immediate needs, we'll discuss your skincare history and determine which HydraFacial® treatment, specialized HydraFacial® Booster, and HydraFacial® perks are right for you.
Next, you'll experience the HydraFacial® treatment! You'll relax in our comfortable spa chairs while your Cre8 esthetician uses the unique HydraFacial® equipment to cleanse your skin, followed by several other steps like hydro-dermabrasion, gentle acid peel, extraction, and serum infusion. 
Each step of the way will be customized for your needs!
What kind of results will I get from a HydraFacial® treatment?
Many of the results of HydraFacial® are instant – you'll feel softer, plumper skin that's brighter and smoother. Over time, the long-term results become more apparent, with fewer, if any, breakouts, softer more hydrated skin, and a younger look that you'll love.
It's never too early – or too late – to pamper your skin with the incredible benefits of HydraFacial®. Make an appointment today at Cre8 Salon & Spa and our expert estheticians will help you choose the right HydraFacial® treatment for your skin's individual needs. Download our loyalty app and Register Now Visit www.loyaltysos.ca/biz/cre8  You'll find us at 814 Pine Island Rd #202, Cape Coral, FL, call us at 239.458.2704, or contact us to experience the many benefits of HydraFacial® for your skin!